ALREADY AVAILABLE !
* * * * *
Thermex E9
Electric Heating System  perfect widening to your heating system.
It can also work as an autonomous boiler.


Heating with electricity – efficient solutions for chilly homeowners.
MANY AREAS OF APPLICATION
Electric heating makes many people think of the electric boilers that were so popular not that long ago.
Electricity was much cheaper then than it is now. Today, waterborne electric heating is often used as additional heating when a heat pump is not enough, or as heating in garages and extensions.
In such cases it is often used as waterborne underfloor heating.
E9 can also be connected to a heat pump and then functions as the inner unit of the heat pump.
• SIMPLE INSTALLATION
• MANY AREAS OF APPLICATION
• LOW INSTALLATION COST
• EASY TO USE
• PERFECT FOR UNDERFLOOR HEATING
• SUITABLE FOR EXTENSIONS
• A FLEXIBLE SOLUTION WHEN YOUR HOUSE'S ORDINARY HEAT SOURCE IS NOT ENOUGH IN THE WINTER
• CAN OFTEN BE INSTALLED IN AN EXISTING BOILER
           
* * * * *
Thermex IF PRO


STAINLESS STEEL digital control boilers
Thermex flat water heaters have gained wide popularity thanks to their design, flat model is also compact and convenient for installation, and the entire heating process automation will save your time and nerves.
A user-friendly interface (e-panel and display) shows the precise current temperature.
Two heating elements installed in both tanks distribute gradually heating power between each other, thus you can choose the power consumption method.
* * * * *
Thermex SMART
SMART 
FLAT ENAMEL  water heater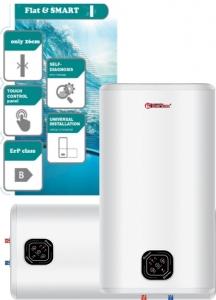 This models range include 30-50-80-100 L 
> Flat shape – depth from the wall  only  263 mm
> two enamel inner tanks
> universal mounting options (vertical / horizontal)
> smart function
> ErP class – B
SMART
Operating this mode, water heater recording user habit and prepare hot water for the next cycle (7 days in a cycle).
The rest of the time, IF Smart maintain minimum temperature.
Thus, you can achieve comfort and save energy.